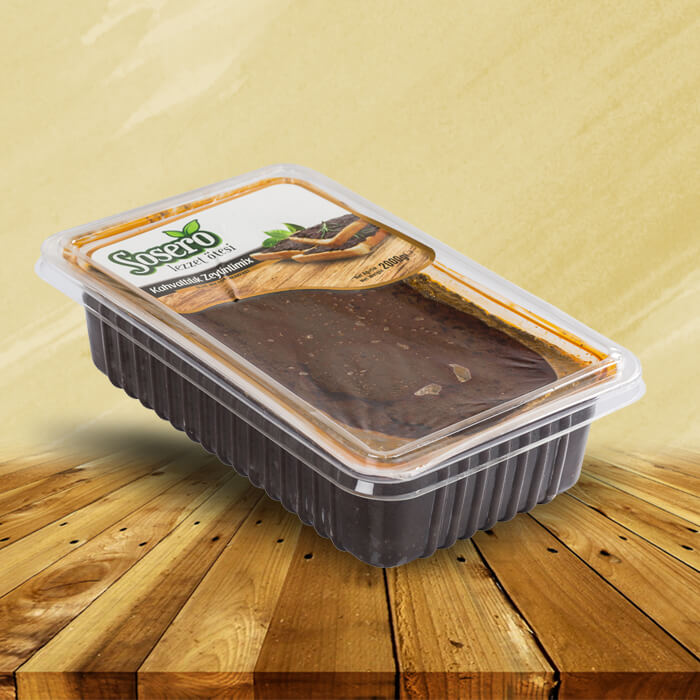 Olive Mix
2 kg Vacuumed Plate
Sosero Olive Mix is a gourmet product that offers you the next generation of olive paste. Only table olives brined entirely through natural methods are used in the production of Sosero Zeytinlimix, a delicious spread bringing together black olive paste, tomato paste, pepper paste, chili pepper paste, vegetable oil, pomegranate syrup, crushed peanuts, crushed walnuts, and spice mix.
As the result of a meticulous preparation process, Sosero Olive Mix is a nutritious product that contains much more than all the nutrients in olives and olive oil. It offers a more lasting taste and smell than olive paste.
All products in Sosero Gourmet Series are produced at our gourmet products factory situated in Gemlik, Bursa, certified for ISO 9001:2015 Quality Management System, ISO 22000:2005 Food Safety Management System, TSI Standard, and Halal Production, with every stage of production overseen by a team of experts.
PRODUCT SPECIFICATIONS
NET WEIGHT (gr)

2000

DRAINED WEIGHT (gr)

-

EXPIRY DATE

2 YEARS

PCS PER BOX

2